WHO ARE LEVKA ORI ORG ?
levka ori org are now 4 cooperating associations, which have gathered an experience of 15 years to guide participants on the real free platform 'magnesia site':
an untouched, sunny and quite windy site, with harmonious and panoramic views, not too harsh but not too civilized either, easy to reach but far enough from the crowds, and not too far from accommodation:
you can feel free there and it is pleasant to perform harmonious interventions in the landscape in agreement with the owners.
the associations do not interfere at any moment and are only present for technical assistance and guidance.
since you are new participants every year, the creative encounters are constantly adventurous.
sure, each year you also will express your enthusiasm.(see:
participants
)
COLLABORATING ASSOCIATIONS:
-
C.I.C. INT. ASSOCIATION
, non-profit association that aims to promote the interaction on an international level between artists, scientists and philosophers and the environment. (
more...
)
-
LOGOS FOUNDATION
, professional organization for the promotion of new musics and audio related to arts by means of composition, technological research projects and other contemporary music related activities.
-
NET- JOURNAL
, New Energy Technologies, the only german-language magazine which deals specifically with non-conventional energy technologies and new developments in this field.
-
ZOOPRAXISCOPE
, video and radio works + landsdscape and public artworks (
more...
)
HISTORY
1980 - 1994
since 1980, the creative integration centre (cic), international association, a mainly belgian group, with different members every year, has been active in different disciplines: painting, sculpture, architecture, design, music, dance, poetry and even new technologies (frequently combined with technical experiments). when setting up exhibitions and events in different european cities, the group always aimed to harmonize art, technology and the natural environment. to achieve this goal, it always searched for open-air locations where these disciplines could be practised. when a site had been found, all the different local owners had to be contacted.
so the idea came to find a real free platform: an untouched, sunny and yet windy site, if possible with a harmonious and panoramic view, not too harsh but not too civilized either, easy to reach but far enough from the crowds, and not too far from accommodation: a place where you could feel free and where it would be pleasant to perform harmonious interventions in the landscape in agreement with the owners.
after many years and after visiting many regions of the mediterranean area, the canary islands, the azores, etc... a suitable location was finally found in crete in 1994, in the south-west of the island in the kandanos-paleochora-enneachora region.
1995 - 2006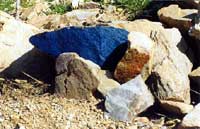 1995 : 1st international creative interdisciplinary encounter
1996 : 2nd international creative interdisciplinary encounter
1997 : 3th international creative interdisciplinary encounter
1998 : diethnis kallitechnikes synantesis
1999 : landart & new energies
2000 : the four elements
2001 : heaven & land reflexions
2002 : circles
2004 : mediterranean & nordic exchanges
2005 : landart & photography
2006 : landart & music
2007 - now
MAGNESIA, PLATO'S UTOPIAN CITY IN CRETE
• in 2006 the participants suggested to rename the location in the mountains to "magnesia",
because of the geographical and spiritual resemblance to the utopian city of plato (
the laws, excerpts 702 - 704, 969
)
• just as a magnet attracts only iron rings and passes on to them this power to attract other rings, the muse first inspires a few people who in turn inspire others, so that a whole chain of creative spirits arises, each of whom pass on their enthusiasm to others (dialogues, ion 533-535).
• also plato's ideas on autarchie are to be found in free energy technologies.
2007 : magnesia, plato's utopian city
2008 : archeology of the imagination
2009 : aeolus: a material, a concept, a source of energy
2010 : electro-magnesia
2011 : the geometry of white mountains and white waters (levka ori - aspra nera)
2012 : earth-sky resonances
2013 : new earth-sky resonances
MORE ABOUT LEVKA ORI CREATIVE ENCOUNTERS:
-
concertblog - paleochora
-
concertblog - wind
-
'crete soundies' by moniek darge
(
dusted magazine review
-
brian olewnick review
)
-
kurt du tre - Levka Ori
-
landartcrossing - see 'LANDARTCROSSING' -> 'MYTH AND ACHITECTURE'
-
invitation 'magnesia 2': visual concert and exhibition
-
opening of exhibition 'GAEA-AEOLUS'
-
Levka Ori Venturi Towers
(PDF 2.3MB)
-
Hands of Aeolus
(video)
-
Land/watermarks
(video)
PARTICIPANTS
every year there are some 6 - 10 participants
- from following countries:
australia: 1 / belgium: 25 / bulgaria: 1 / china: 1 / columbia: 1 / france: 2 / fyrom: 1 / germany: 1 / greece: 4 / ireland: 1 / israel: 2 / mexico: 1 / moldavia: 1 / netherlands: 2 / norway: 1 / panama: 1 / portugal: 1 / serbia: 1 / south africa: 1 / spain: 1 / sweden: 3 / switzerland: 1 / u.k.: 1 / u.s.: 3
- disciplines:
painting: 9 / motion graphic designer: 1 / interaction designer: 1 / land art: 3 / designer: 1 / photographer: 2 / musician: 3 / school director: 1 / sculptor: 6 / tele-communication: 1 / organizer: 1 / art student: 3 / landscape architecture: 2 / architecture student: 2 / graphics: 1 / art school: 2 / multimedia: 4 / miniature painting: 1 / curator: 1 / ice sculptor: 1 / new technologies journalist: 1 / researcher: 3
TESTIMONIES
"
the experience I had on crete, was as if it took me up and allowed me to became 'one' with the power and the fragility of the landscape
" (martine platteau / belgium/ sculptor)
"
although some creative people think that the project is limited to crete, I was so stimulated by the gorgeous beauty of the site and the virgin nature, that once at home I could continue to be creative in the same way
" (joost laroy / belgium / sculptor)
"
I was surprised to find here no real organization, no fixed locations nor even properties of the organizing associations, but only a guide, so that I was free to act without any pressure or submissive feeling
" (gottfried hilscher / germany / journalist)
"
never before could I make such nomadic experiments and it was also a pleasure to have the possibility to work in tandem with others
" (sara wijkmans / belgium / sculptor)
"
the success of such an event is determined by the participants. the group of participants was so nice and attentive, that its warmth and attention automatically stimulated the quality of life, so that already on that way the ultimate aim of the project was reached
" (wouter meire / belgium / musician)
"
in 2004, different fields of art and nationalities joined the project and blended their cultures and ideas. the project became a challenging encounter ! we were a group of 8 persons and we represented seven different fields in arts. this wide range of professional practice in arts, created a dynamic atmosphere, for ideas to be expressed, tested and evaluated. we had regular briefings on the project. the project was completed with debriefing, feed back and making plans for upcoming year.
" (marie gayatri kristoffersson / sweden / land artist )
"
my experience with the discovery and the working on magnesia in crete is very positive. it was surprising how wild the mountains are, how cooperative the team of people participating to the levka ori project & how fullfilling the process of bringing audio art within the scope of this unique setting.
" (moniek darge / belgium / musician)
"
I didn't get a chance to tell you how much I enjoyed the Levka Ori encounters. I thought the program was well balanced between organized activities and open work periods, and the connections I made with the other participants were both professionally and personally rewarding.
" (julian scaff / usa / ecological art, design, video, sound)
"
thanks for the Creative Encounter initiative and I look forwards to reactions, data, photograph exchange and the planned exhibitions in ghent and bruges.
" (annemarie steinvoort / netherlands / literature & soundartist.)
"
I would like to thank you all for the great time I've had. It was great to see you create and watch the dynamics and interaction within the group. It was a totally different week than that I originally planned.
" (ellen scheers / belgium / observing photographer)
"
thanks a lot for making the Levkaori such a nice event this year
" (maria gayatry / sweden / land art)
"
high above the village of paleochora, I and other participants of the 14th levka ori project worked with the wind for a week. I hesitate to use the word 'work' for it has felt more like play than work. nevertheless, I say 'work' as it represents a focussed effort to create something out of nothing, to communicate our ideas about self-expression, and to engage ourselves in a creative process that would spill over to other areas in our individual lives.
" (
more
) (anne ku, pianist, composer, writer, researcher)
"
The breathing heart and the acritic borders of Crete: A trip through yoni of Mother Earth
Once upon a time, in the middle of nowhere, at a point named MAGNESIA, on both sides open with sea view, surrounded by organic pulsating open and closed high mountain peaks, started the point of remembering, the earth-chakra , the life-line from Crete to Iceland, the eternal rythm of life !
the acritic line from Crete to Iceland unifies Europe as one body, a system of veines, organs and nerves, with as masterpoints the acritic tension on his borders, as the human auras... giving us a diversity of landscapes, cultures, history, art and religion where every hero tells the same story - one of unity, harmony and respect for the 'other'
The White Mountains, in the heart of Crete , breeding, breathing - where magical clouds are appearing and disappearing...an acritic point on every place or path...
Every line, crossing a point, to make a connection with another point, crossing other lines and radials ... creates a tension at the crossroads ... history comes and goes by the waves of the Lybian sea
Zeus has done well by bringing Europe to Crete !
" (pieter verbist & els abts / belgium)